Cheesy Stuffed Meatloaf Recipe
Our Cheesy Stuffed Meatloaf Recipe is amazing!  A classic comfort food gets a delightfully cheesy new twist your whole family will love!
Ingredients for Cheesy Stuffed Meatloaf Recipe
Meatloaf
1 lb lean (at least 90%) ground turkey
1/2 lb bulk Italian sausage
1/4 cup shredded Asiago or Parmesan cheese
1/2 cup dry bread crumbs
1 small onion, finely chopped (1/4 cup)
2 tablespoons chopped fresh or 2 teaspoons dried basil leaves
1/2 teaspoon salt
1/2 teaspoon ground mustard
1/4 teaspoon pepper
1 clove garlic, finely chopped
1/2 cup milk
1 tablespoon Worcestershire sauce
1 egg
8 oz mozzarella cheese, cut into 1/2-inch cubes
Topping
2/3 cup chili sauce, pasta sauce or pizza sauce
1/4 cup shredded Asiago or Parmesan cheese
2 tablespoons chopped fresh or 2 teaspoons dried basil leaves
1/4 teaspoon pepper
Heat oven to 350°F. In large bowl, mix all ingredients except topping. Line ungreased 13×9-inch pan with foil. Shape meatloaf mixture into 9×5-inch loaf on foil in pan. In small bowl, mix all topping ingredients; spread over top and sides of loaf.
Insert ovenproof meat thermometer so tip is in center of loaf. Bake uncovered 45 to 50 minutes or until meat is no longer pink in center and thermometer reads 165°F. Let stand 5 minutes; remove from pan.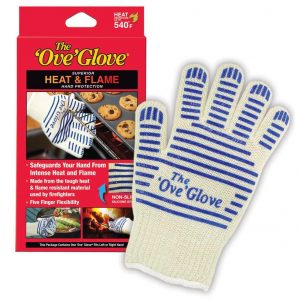 Ove Glove Oven Mitt Customer Reviews
Really protect your hands. Follow directions and don't let them get wet. Fingers of glove are a little narrow, may cause a problem for someone with larger hands. But really protect hands from heat better than any other type of pot holder I've tried. – Kimberly, July 2, 2020
I had a pair of red gloves that lost their insulation strength. It took burning a couple fingers when taking a pan out to convince me to get a new pair. This is my first Ove pair, and they are proving to be quite sturdy and protective. – M, June 30, 2020
Great for cast iron! We love cooking in cast iron, but of course the pan gets hot, so you need to make sure your hand is protected while cooking. Plus at those really high temps you want to make sure your glove can handle it. So these are perfect for all cooking occasions! – Jennifer, May 17, 2020
I love these gloves. For me gloves are better I can handle baking dishes better, mittens are too bumblesome for me and I get burned. I feel secure handling hot dishes cause I know I will not be burned. – SuzyTara, April 10, 2020
Best oven gloves! They protect while giving more flexibility than a traditional mitt. – Susan, July 13, 2020
They are very helpful when baking. I do not get burned. My last pair are still very serviceable. However, they have been used so long it's just time to retire them. On the other hand. These are cheaply made. Many loose strings inside the fingers and uni handed. My old ones had a right and left hand. Much more comfortable. These are also much lighter weight. – ramcc, June 22, 2020
I am happy with this pot holder. Surprised by the quality as most seen on TV stuff is junk. I am prone to burns and think these gloves will offer "superior protection"! They are a tad big on me but that is not a hindrance. But, they are just right on my adult son. – LULU, June 9, 2020
These gloves are great. They have replaced all my pot holders. I've been using them for almost a year and so far I haven't felt any heat through them. They are also wonderful for getting hot items out of the microwave. I highly recommend that everyone have a pair in their kitchen. – Ohpinkone, December 7, 2019
I have a mitt that I have had about 20 years and my son ask what brand it was so I thought that they would make a good Easter gift to go with a griddle. So they are as described. Wonderful! Thick, flexible and protect from heat. – Melissa, April 15, 2020
My ove glove has been down many paths. Between Grill and Stove and old age it has seen better days. I have looked everywhere to find the ove gloves every time I was in all the stores and no one had it. Low and behold I found it online not jut one but two of them. They are the best gloves I have found. – weekendwarrior48, December 14, 2018
I have used cooking gloves for years and love them so I got them for my daughter for a Christmas gift this year. They are just what they say, you can put them on and reach in the oven and pull out the item without any problem. The fact that the fingers are separate makes the grip easier and safer so less chance of dropping the food. – Bigshopper, December 16, 2018
These are the original OVE gloves, they are the best pot holders available. I use them to check baked potatoes on the grill to make sure they are done. Then just remove the baked potatoes and corn right off the grill. These will protect your hands removing just about anything from an oven or grill. Well worth the price. – JohnS, July 1, 2019

All major credit cards accepted including Visa, MasterCard, American Express, Discover and PayPal
WARNING: This product extends the time to handle hot objects.  It is NOT permanent protection against fire or heat.  Do not use this glove with steam or while glove is wet.  Can result in injury if not used accordingly to instructions.
Ove Glove – Coupon Code – Free Shipping – Cart – Track Order – Contact Us
Cookie Recipes – Banana Bread Recipes – Meatloaf Recipes